VISITA VIÑEDO VILLASEÑOR WINES.. VISIT VILLASEÑOR WINES VINEYARD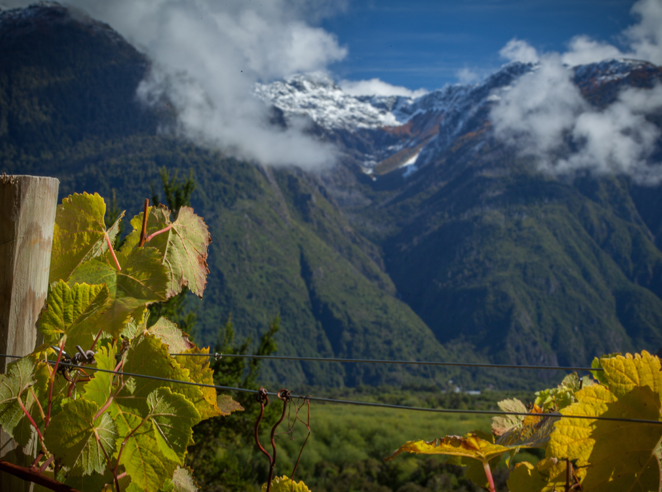 ....MEDIO DÍA ..HALF DAY....
2 a 3 hrs
....Tipo de actividad: Trekking..Activity: Trecking....
....Grado de dificultad: Fácil..Difficulty level: Easy....
....Tamaño del grupo: 2 a 12 personas..Group size: 2 to 12 persons....
....Edad mínima: Todas las edades..Age: All ages....
Descripción:..description
....
La visita inicia desde nuestro muelle con un recorrido en lancha que sube por el gran río Puelo remontando hasta el sector "La Murra" en donde desembarcaremos para iniciar una suave caminata hasta llegar al Viñedo Villaseñor Wines (www.villasenorwines.com), la segunda viña más austral del mundo y la primera en su tipo inserta en la selva Valdiviana. Podremos ver diferentes parras tales como Marzan, Pino Gris y Pinot Noir, que es la plantación más alta con hermosa vista panorámica al valle del río Puelo, de regreso en la comodidad del lodge realizaremos una degustación de vinos.
..
The tour begins with a boat ride sailing out from our dock. It will take us up Puelo River towards "La Murra", where we´ll disembark to start an easy walk towards the vineyard. Villaseñor Wines (www.villasenorwines.com) is the southernmost vineyard in the world, and the first of its kind in the Valdivian rainforest. You´ll get to check out different vines, including the Marzan, Pino Gris and Pinot Noir---the latter of which is planted at a higher altitude than any other vine. From here, you´ll enjoy the beautiful panoramic view of the Puelo River Valley. To close, we´ll return to the comfort of the lodge for a wine tasting.
....
Detalles:..details
....
EQUIPO SUGERIDO
Ropa cómoda, zapatillas o zapatos de trekking, pantalón largo, chaqueta de agua, polar, gorro o sombrero, mochila pequeña, botella de agua o camel back, lentes de sol.
REQUISITOS
Participantes deben tener salud acorde con la actividad. Saber nadar. No tener ningún impedimento físico motor. Menores entre 14 y 16 años requiere permiso escrito de sus padres. Menores de 14 años deben ir acompañados de sus padres o tutor.
INCLUYE
Traslado en lancha al Viñedo Villaseñor Wines.

Kit profesional de primeros auxilios y radios VHF.

Guía.
NO INCLUYE
Equipo personal

Propinas

Rescate
O cualquier otro servicio no mencionado en el programa.
..
SUGGESTED GEAR
Comfortable clothing, sneakers or trekking boots, long pants, a raincoat, a fleece sweater/sweatshirt, a small backpack, a bottle of water or camelback, a cap to block the sun, sunglasses.
REQUIREMENTS
Participants should be in adequate physical health to do the activity. Participants must know how to swim. If you have any motor impairment you may not participate in this activity. Participants between the ages of 14 and 16 must have the written permission of their parents. Children under 14 years old must be accompanied by a parent or guardian.
INCLUYE
Boat ride to Villaseñor Wines vineyard.

Professional kit that includes first aid and a VHF radio.

A guide.
NO INCLUYE
Or any other service not mentioned in the above program.
....
COKELABRA