VALLE EL FRÍO..HORSEBACK RIDING AT "EL FRIO" VALLEY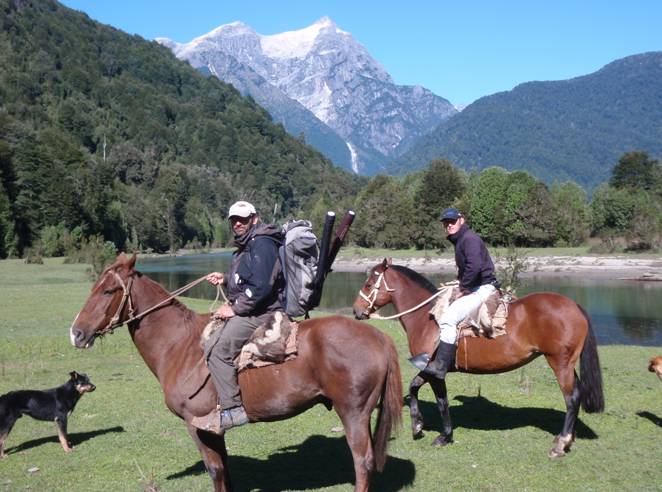 ....MEDIO DÍA ..HALF DAY....
3 a 4 hrs
....Tipo de actividad: Cabalgata..Activity: Horseback riding....
....Grado de dificultad: Moderado..Difficulty level: Moderate....
....Tamaño del grupo: 2 a 5 personas..Group size: 2 to 5 persons….
....Edad: Sobre 11 años..Age: Over 11....
Descripción:..DESCRIPTION
....
Cabalgata que parte con la salida del muelle de Mítico hasta Punta Maldonado para subir a nuestra van y avanzar por 20 minutos hasta el puente Cheyre sobre el río Manso el cual bordearemos río arriba hasta llegar a la rivera del río El Frío donde nos esperan los caballos listos para iniciar una cabalgata hacia el interior del valle por bosques, praderas e iniciamos la aventura cruzando el río El Frío.
..
The trip starts from the dock at Mítico Lodge towards the paradise town Punta Maldonado, from which you´ll be picked up in our van. 20 minutes later, we´ll arrive at Cheyre bridge over Manso river. We´ll travel upstream until we arrive at the banks of "El Frio" River, where the horses will be waiting and ready for a ride into the forests and prairies of the valley´s interior. The adventure begins as soon as we cross the El Frio River!
....
Detalles:..DETAILS
....
EQUIPO SUGERIDO
Ropa cómoda, zapatillas o zapatos de trekking, pantalón largo, chaqueta de agua, polar, gorro o sombrero, mochila pequeña, botella de agua o camel back, lentes de sol.
REQUISITOS
Participantes deben tener salud acorde con la actividad. Saber nadar. No tener ningún impedimento físico motor. Menores de 18 años requieren permiso escrito de sus padres.
INCLUYE
Snack

Transporte

Caballos, aperos y cascos

Guía Local

Kit profesional de primeros auxilios
NO INCLUYE
Equipo personal

Propinas

Rescate
O cualquier otro servicio no mencionado en el programa.
..
SUGESTED GEAR
Comfortable clothing, sneakers or trekking boots, long pants, a raincoat, a fleece sweater/sweatshirt, a small backpack, a bottle of water or camelback, a cap to block the sun, sunglasses.
REQUIREMENTS
Participants should be in adequate physical health to do the activity. Participants must know how to swim. If you have any motor impairment you may not participate in this activity. Participants younger than 18 years of age must have the written permission of their parents.
INCLUDES
Snack

Transport

Horses

Implements

Helmet

Local guide

Professional kit that includes first aid and a VHF radio
NOT INCLUDED
And other services not mentioned in the program.
....
COKELABRA