KAYAK AL GRAN SALTO.. KAYAK THE HUGE "SALTO" WATERFALL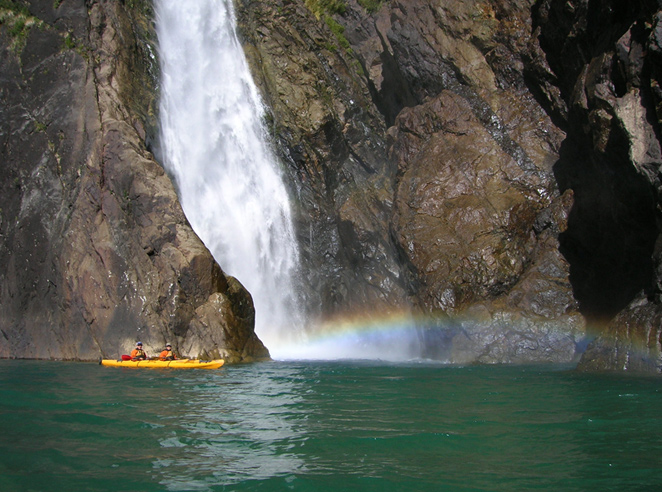 ....MEDIO DÍA..HALF DAY....
3 a 4 hrs
....Tipo de actividad: Kayak..Activity: Kayak....
....Grado de dificultad: Fácil a moderado..Difficulty level: Easy to moderate....
....Grupo de personas: 2 a 6 personas..Group size: 2 to 6 persons....
....Edad mínima: Sobre 11 años..Age: Over 11....
Descripción:..description:
....
Por cuatro horas remaremos el lago Tagua-Tagua encajonado entre montañas, sintiendo el viento en nuestras caras, mientras nos acercamos a una enorme cascada que cae directamente al lago. Una experiencia mítica en la Patagonia chilena.
..
Surrounded by mountains with wind blowing on our faces, we´ll paddle along the Tagua Tagua Lake for 4 hours until we reach the enormous waterfall directly above the lake. An experience of mythical proportion in the Chilean Patagonia.
....
Detalles:..details:
....
EQUIPO SUGERIDO
Cortaviento o chaqueta, polar, sandalias, traje de baño o pantalones impermeables (dependiendo de las condiciones climáticas), gorro para el sol, botella de agua o camel back, lentes de sol.
REQUISITOS
Participantes deben tener salud acorde con la actividad. Saber nadar. No tener ningún impedimento físico motor. Jóvenes entre 14 y 18 años con permiso escrito de sus padres. Menores de 14 años deberán ser acompañados por sus padres o tutor.
INCLUYE
Kayak con timón y equipo Prijon de procedencia alemana, doble y simples

Remos

Faldones

Chaquetas para remar

Salvavidas

Bolsa secas para tu equipo y cámara

Kit profesional de primeros auxilios

Radios VHF

Guía
NO INCLUYE
Equipo personal

Propinas

Rescate
O cualquier otro servicio no mencionado en el programa.
..
SUGGESTED GEAR
Raincoat or windbreaker, fleece sweater/sweatshirt, sandals, swimsuit, waterproof pants (depending on weather conditions), a cap, water bottle or camelback, sunglasses.
REQUIREMENTS
Participants should be in adequate physical health to do the activity. Participants must know how to swim. If you have any motor impairment you may not participate in this activity. Participants between the ages of 14 and 18 must have the written permission of their parents. Participants younger than 14 must be accompanied by a parent or guardian.
INCLUDED
Kayak with a rudder and German-designed Prijon gear, which includes double and single-sided paddles

Spray skirts

Rowing jackets

Life jackets

A dry bag for your equipment and a camera

Professional kit that includes first aid and a VHF radio

A guide
NOT INCLUDED
Or any other service not mentioned in the above program.
....
COKELABRA