MOUNTAIN VENTISQUERO.. VENTISQUERO MOUNTAIN BIKING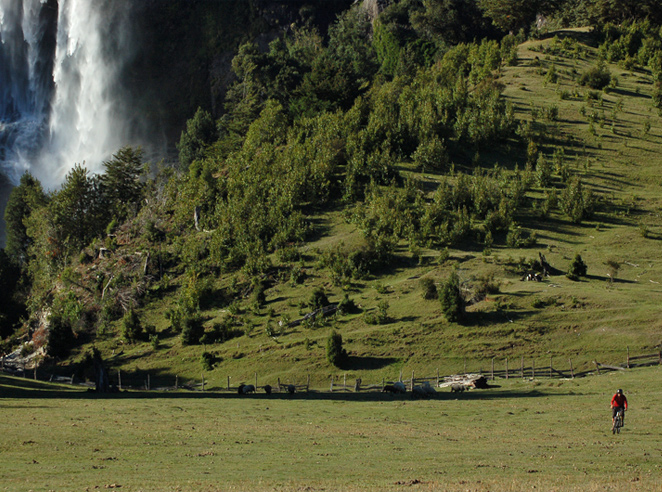 ....DÍA COMPLETO..FULL DAY....
5 a 6 hrs
....Tipo de actividad: Bicicleta..Activity: Biking....
....Distancia: 23km ida y vuelta..Distance: 23km round trip....
....Grado de dificultad: Moderado..Difficulty level: Moderate....
....Tamaño del grupo: 2 a 6 personas..Group size: 2 to 6 persons....
....Edad: Mayor de 6 años..Age: Over 6....
Descripción:..DESCRIPTION
....
Te invitamos a sorprenderte con esta ruta que hemos diseñado por el valle del río Ventisquero. Salimos en lancha desde el puerto de Mítico Puelo Lodge en dirección a Punta Maldonado donde nos espera el transfer con las bicicletas para seguir el camino a Llanada Grande hasta Primer Corral en donde montaremos nuestras bicicletas y cruzaremos un puente mecano sobre el río Puelo para luego adentrarnos por una suave ruta por el valle del río Ventisquero por bosques de Ciprés de la Cordillera y Coigüe. Junto a un puente colgante sobre el río Correntoso aprovecharemos para comer nuestro box lunch y continuar pedaleando para alcanzar la rivera del río Ventisquero, luego de una pausa en ese hermoso lugar regresaremos por la misma ruta hasta el transfer que nos traerá de regreso a Mítico Puelo Lodge.
..
We invite you to try out this beautiful route along the Ventisquero river valley. We´ll head out from the Mítico Puelo Lodge towards Punta Maldonado, where we´ll be met by a van carrying our bicycles. We´ll follow the Llanada Grande road to the town Primer Corral. This is where you´ll mount your bike to cross the meccano bridge over Puelo River. Then, you´ll zip along a soft trail through the Ventisquero River Valley, passing through the mountain range´s beautiful cypress and Coigüe forests. We´ll stop for lunch by the hanging bridge over the Correntoso River and then continue onward towards the banks of the Ventisquero River. Once we take a rest at this beautiful site we´ll return by the same route, taking a van back to Mítico Puelo Lodge.
....
Detalles:..DETAILS
....
EQUIPO SUGERIDO
Ropa cómoda, zapatillas, chaqueta de agua, polar, mochila pequeña, botella de agua o camel back, gorro de sol, lentes de sol.
REQUISITOS
Participantes deben tener salud acorde con la actividad. No tener ningún impedimento físico motor. Menores de 12 años deben ir acompañado de sus pares o tutor.
INCLUYE
Box lunch

Transporte terrestre y acuático

Bicicleta Giant de 24 velocidades con suspensión delantera

Kit profesional de primeros auxilios y radio VHF

Guía
NO INCLUYE
Equipo personal

Propinas

Seguros de accidentes y rescate
O cualquier otro servicio no mencionado en el programa.
..
SUGGESTED GEAR
Comfortable clothing, sneakers, a raincoat, a fleece sweater/sweatshirt, a small backpack, a bottle of water or camelback, a cap to block the sun, sunglasses.
REQUIREMENTS
Participants should be in adequate physical health to do the activity. If you have any motor impairment you may not participate in this activity. Children under 12 years old must be accompanied by a peer or a guardian.
INCLUDED
Box lunch

Ground and water transportation

24-speed Giant bicycle with front suspension

Professional kit that includes first aid and a VHF radio

A guide
NOT INCLUDED
Personal gear

Tips

Insurance or rescue
Or other services not mentioned in the program.
....
COKELABRA