VALLE LLANADA GRANDE..LLANADA GRANDE VALLEY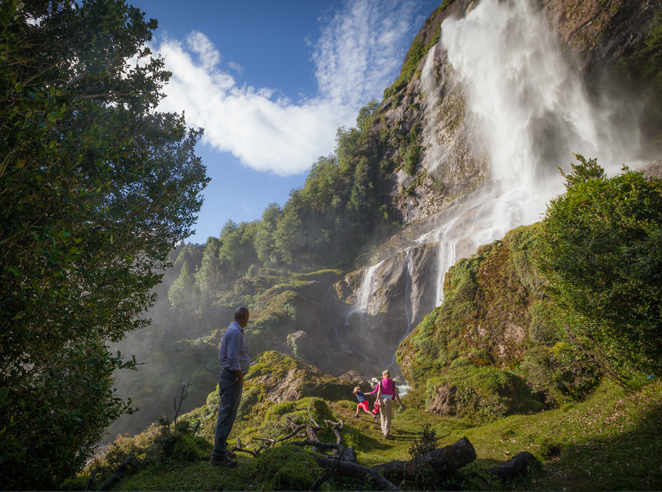 ....DÍA COMPLETO..FULL DAY....
5 a 6 hrs
....Grado de dificultad: Fácil..Difficulty level: Easy....
....Tamaño del grupo: 2 a 12 personas..Group size: 2 to 12 persons....
....Edad mínima: Sobre 10 años..Age: Over 10....
Descripción:..description
....
Dejamos el lodge en lancha y desde Punta Maldonado recorreremos en vehículo el futuro camino internacional que nos llevará al sector de Llanada Grande, desde aquí iniciaremos un trekking que nos llevara a visitar una cascada la cual provee de electricidad a la localidad. De regreso a nuestro vehículo continuamos camino hasta una hermosa playa en el lago Totoral para continuar ruta hasta Primer Corral lugar donde el río Puelo esta encajonado y se abre al valle nuevamente en dicho punto donde se emplaza una Pasarela utilizada por los antiguos colonos de la zona para pasar caballos y carretas de una rivera a la otra y así sortear este imponente obstáculo natural. Muy cercano a éste punto almorzaremos en un precioso lugar a orillas del río Puelo.
..
Leaving the lodge by boat, we´ll arrive at the town Punta Maldonado where a vehicle will be waiting to pick us up. It will take us on the future international route to Llanada Grande. From here, we´ll begin our trek to the waterfall, which provides electricity to the entire town. On the way back, we´ll drive to the beautiful beach of Totoral Lake. Then we´ll be on our way to the town Primer Corral, where the Puelo river opens into the valley at the footbridge. This bridge was used by the ancient settlers of the region, who rode horses and wagons from one bank to the other in defiance of this imposing natural barrier. We´ll take a lunch break nearby, in a charming corner at the banks of the Puelo River.
....
Detalles:..details
....
EQUIPO SUGERIDO
Ropa cómoda, zapatos de trekking, chaqueta de agua, polar, gorro, traje de baño, toalla chica, mochila pequeña, botella de agua o camel back, lentes de sol y bastones para caminar.
REQUISITOS
Participantes deben tener salud acorde con la actividad. No tener ningún impedimento físico motor. Jóvenes entre 14 y 16 años con permiso escrito de sus padres. Menores de 14 años deberán ser acompañados por sus padres o tutor.
INCLUYE
Snack y Almuerzo campestre

Transporte terrestre y acuático

Kit profesional de primeros auxilios y radios VHF

Guía
NO INCLUYE
Equipo personal

Propinas

Rescate
O cualquier otro servicio no mencionado en el programa.
..
SUGGESTED GEAR
Comfortable clothing, trekking boots, raincoat, fleece sweater/sweatshirt, cap, swimsuit, small towel, small backpack, water bottle or camelback, sunglasses, and a walking stick.
REQUIREMENTS
Participants should be in adequate physical health to do the activity. If you have any motor impairment you may not participate in this activity. Participants between the ages of 14 and 16 must have the written permission of their parents. Participants younger than 14 must be accompanied by a parent or guardian.
INCLUDED
Snack y Picnic Lunch

Ground and water transportation

Professional kit that includes first aid and a VHF radio

A guide
NOT INCLUDED
Or any other service not mentioned in the above program.
....
COKELABRA