CASCADAS DEL TAGUA TAGUA.. THE TAGUA TAGUA WATERFALLS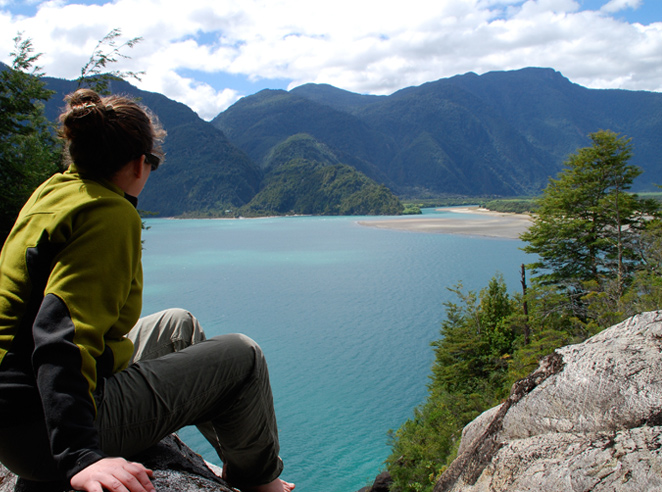 ....MEDIO DÍA..HALF DAY....
3 a 4 hrs
....Tipo de actividad: Senderismo..Activity: Trecking....
....Grado de dificultad: Fácil..Difficulty level: Easy....
....Tamaño del grupo: 2 a 12 personas..Group size: 2 to 12 persons....
....Edad: Todas las edades..Age: All ages....
Descripción:..description
....
Esta excursión de trekking recorre parte del Parque Tagua Tagua, área protegida privada ubicada en la cuenca del río Puelo, éstas 3.000 hectáreas son dedicadas a la conservación de los ecosistemas, investigación científica y turismo sostenible. Cruzaremos en lancha el lago Tagua Tagua y nos acercaremos a esta hermosa cascada de 30 m que cae directamente al lago para luego ingresar al parque, cercano al inicio nos detendremos en el centro de informaciones, viviremos la experiencia de cruzar un gran puente colgante con espectaculares vistas al río y al lago Tagua Tagua en plena Patagonia norte, pasaremos por los vestigios de la familia Melipillan antiguos colonos de la zona, veremos dos saltos de agua, caminaremos bajo el bosque, cruzaremos el río "El Salto". (350 metros de desnivel y 6 km ida y vuelta)
..
This trekking excursion covers part of Tagua Tagua Park. With 3,000 hectares of private protected territory located on the banks of the Puelo River, the park is used for ecosystem conservation, scientific research, and sustainable tourism. We´ll take a boat across Tagua Tagua Lake towards the breathtaking waterfall at 30m high, located just over the lake entrance. We´ll visit the tourist information center before proceeding to cross the enormous hanging bridge, where you´ll enjoy the incredible views of the river and lake to the Patagonian north. As we continue on, you´ll get to see two more waterfalls and the remains of the Melipillan family, the region´s oldest settlers. You´ll walk along a path through the forest and finally cross the "El Salto" (or "The Jump") River. (350 meter drop, 6 km round trip)
....
Detalles:..details
....
EQUIPO SUGERIDO
Ropa cómoda, zapatillas o zapatos de trekking, parka de agua, polar, gorro, traje de baño, mochila pequeña, botella de agua o camelback, lentes de sol y bastones para caminar.
REQUISITOS
Participantes deben tener salud acorde con la actividad. No tener ningún impedimento físico motor. Menores de 16 años con permiso escrito de sus padres.
INCLUYE
Snack

Traslado en lancha al Parque

Entradas

Kit profesional de primeros auxilios y radios VHF

Guía
NO INCLUYE
Equipo personal

Propinas

Seguros de accidentes y rescate
O cualquier otro servicio no mencionado en el programa.
..
SUGGESTED GEAR
Comfortable clothing, trekking boots, raincoat, fleece sweater/sweatshirt, swimsuit, small towel, small backpack, water bottle or camelback, sunglasses, and walking stick.
REQUREMENTS
Participants should be healthy enough to do the activity. No problems in motor functioning. Participants younger than 16 years of age must have the written permission of their parents.
INCLUDED
Snack

Transfer by boat to the park

Entrance fees

Professional kit that includes first aid and a VHF radio

A guide
NOT INCLUDED
Personal gear

Tips

Insurance

Rescue
Or any other service not mentioned in the above program.
....
COKELABRA